Last Updated: Tuesday, Aug 9, 2011 18:05 BST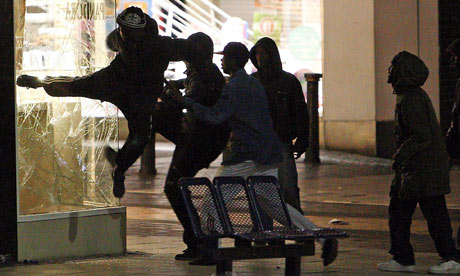 The Rioting Underclass: Product of a Diseased Culture
The next leg of the planned economic collapse has now been launched with the stock market once again plunging as the Federal Reserve prepares to launch QE3, and it's all part of the transfer of wealth from America to the offshore elite that we have been warning about for years.

• Britain's Riots: A Society In Denial Of The Burning Issues
• Police to Use Plastic Bullets on Rampaging Youth in Britain

London rioters: 'We're showing the rich we do what we want'
Two girls who took part in Monday night's riots in Croydon have boasted that they were showing police and "the rich" that "we can do what we want".
Sony U.K. Warehouse Set Ablaze as Violence From London Riots Escalates
The warehouse in Enfield, north London, is still smoldering.

Court clears way for torture suit against Rumsfeld
A federal appeals court has cleared the way for a civil suit against former defense secretary Donald Rumsfeld.
UK Riots: Government Prepares Troops, Martial Law
Following numerous reports of failures on behalf of police to arrest looters or adequately respond to the riots in London that are now sweeping across the entire UK, curfews and troops on the streets are now being readied as authorities prepare to enforce martial law to quell massive civil unrest.
David Cameron chairs emergency Cobra meeting after third night of riots
David Cameron is chairing a meeting of ministers on Tuesday morning, with the government under pressure to bring in emergency measures.

• Theresa May urged to send in water cannon to tackle riots

London riots: Parliament to be recalled
MPs have not been called back during the summer since 2002.

• Videos: London Riots Spread As Violence Escalates

Looting Fueled By Vapid Consumerism
A generation bred on a diet of excessive consumerism and bombarded by advertising has been unleashed.

• Forced to strip naked in the street: Shocking scenes as rioters steal clothes and rifle through bags as people make their way home

Philadelphia imposes 'flash mob' curfew
Philadelphia announced Monday a nighttime curfew for minors in its historic downtown in an attempt to stop flash mob invasions by rampaging teenagers.
Government raids, terrorizes Christian health ministry for not complying with unlawful demands
Speaking the truth about the curative properties of natural foods and herbs is considered illegal by the U.S. government.

Surveillance Proponents Exploit Twitter Riots to Push For More Control
The time lines for the Tottenham Riots and subsequent assaults on Enfield, Walthamstow and Brixton show clearly how Twitter enabled small groups to rapidly develop tactics.
Are You Fat Because You are Being Poisoned?
Recent research has implicated environmental contaminants in the pathogenesis of obesity.
----------------------------------------------
AUG 2011
1 2 3 4 5 6 7 8 9 10 11 12 13 14 15 16 17 18 19 20 21 22 23 24 25 26 27 28 29 30 31