Last Updated: Monday, Aug 8, 2011 17:34 BST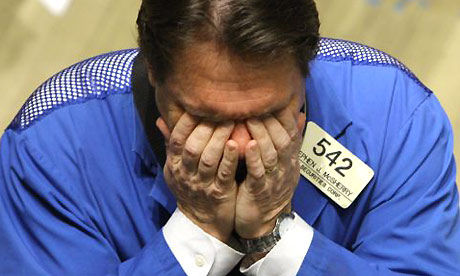 Bankers Launch Next Leg Of Planned Economic Collapse
The next leg of the planned economic collapse has now been launched with the stock market once again plunging as the Federal Reserve prepares to launch QE3, and it's all part of the transfer of wealth from America to the offshore elite that we have been warning about for years.

• Economists, Experts: US Is Bankrupt, Second Severe Recession Imminent
• Moody's says U.S. needs to find more deficit cuts
• Washington Wakes To The Downgrade — And Does Nothing
• Markets Mayhem: Asia stocks plummet on US rating downgrade
• Despite pledges from world leaders, global markets continue to fall
Super Congress: Easy Prey for the Military-Industrial Complex
The Super Congress created by the recent debt ceiling increase deal is a typical example of something nefarious attached to a bigger bill.
Democrats seek to pin credit downgrade on tea party
"I believe this is, without question, the tea party downgrade," Sen. John F. Kerry, Massachusetts Democrat, said.
Pollster: Americans Are "Pre-Revolutionary"
Amidst riots in central Europe that have now spread to London and a debt downgrade that threatens to plunge the United States into a double-dip recession, Americans' lack of confidence in their leadership is so crippled that they are now "pre-revolutionary," according to pollster Pat Caddell.
Claim: Second NATO Helicopter Crash Kills 33
Taliban Spokesman Zabihullah Mojahid claimed responsibility for the crash, which occured in Zarmat city on Monday, saying 33 American troops were killed in the downing.

• Sources: Seal Team 6 Was Murdered
• Dead Men Don't Talk: US Navy Seals Destroyed to Cover Up Washington's Bin Laden Execution Hoax?
Former Obama Economic Advisor Lies About Calling Tea Party Reps Suicide Bombers; Video Proves He Did
This clip also features a fine smack down by George Will.

Japan Rice Futures Surge 40%, Trigger Circuit Breaker On Concerns Fukushima Radiation Will Destroy Crops
70 years after rice futures trading was halted on the Tokyo Grain Exchange, it was finally reopened today… only to be halted immediately.

Boehner Paid $16,176 Tax Dollars in 2010 for Food, Beverages, Bottled Water
Boehner's average purchase from Joe Ragan's was $228.

New York beefs up World Trade Center site security for September 11 10th anniversary
New York is beefing up security for the World Trade Center site ahead of the 10th anniversary of the Sept. 11, 2001, terror attacks.
Power companies prepare as solar storms set to hit Earth
"The magnetic storm that is soon to develop probably will be in the moderate to strong level."

The Invisible IQ Lowering Drug Most Americans Consume Daily
Did you know there's an "invisible" drug that a majority of Americans consume on a daily basis?
Antidepressant use increasing among those with no psychiatric diagnosis
Antidepressants became the third most commonly prescribed class of medications in the United States.
Pakistan TV Report Contradicts US Claim of Bin Laden's Death
OBL's death will remain one of those many "truths" that rest on nothing but the government's word.

• Please Consider Supporting Our Work With a Donation
Taliban Helicopter Attack May Have Been A Trap Involving A Devastating New Weapon
As details emerge about the most deadly incident of the Afghan war, you've got even more reasons to worry.
Mujahedin El-Khalq: Former U.S. Officials Make Millions Advocating For Terrorist Organization
All told, at least 33 high-ranking former U.S. officials have given speeches to MEK-friendly audiences since December of last year.
Former First Lady Jackie Fingers Johnson and Texan Tycoons in JFK Assassination
The former first Lady, the late Jackie Kennedy, believed Johnson and cabal of Texas tycoons were involved in the assassination of her husband.

Cincinatti Student dies after being tasered by university campus officer
A student has died after being shot with a Taser by campus police.

London riots: Twitter users face arrest for inciting looters
Twitter users could face arrest for inciting violence in the wake of two nights of unrest in London.
Dollar to Be 'Discarded' by World: China Rating Agency
The man who leads one of China's top rating agencies says the greenback's status as the world's reserve currency is set to wane.

• Gold surges above $1,700 on US downgrade woes
• Second U.S. recession could be worse than the first
• No Chance of Default, US Can Print Money: Greenspan
• Muni Market Prepares For "Hundreds And Hundreds" Of Downgrades
S&P head: Agency may downgrade U.S. again
"We have a negative outlook on the rating and that means we think that the risk currently for the rating are to the downside," Beers said.

Government agents stole $9,000 in cash during Rawesome Foods raid, says witness
During the raid on Rawesome Foods, $4,500 in cash was taken from the store and $9,000 confiscated from James Stewart.
Gore Unhinged! Loses it on skeptical climate claims
Former Vice President Al Gore sounded a defeated tone and lamented the utter failure of the man-made global warming movement.
Second night of violence in London – and this time it was organised
There was mounting evidence on Sunday night that some of the second night of rioting in London was part of an orchestrated plan.

• Tottenham riots: Police 'stood back and let protestors take over streets'
NATO War Crimes In Libya
In June, former Rep. Cynthia McKinney (D-Ga.) conducted a fact-finding mission in Libya.
Domestic Terrorists? Communities Coin Their Own Currency To Survive The Collapse
Local communities that are now coining their own currency as a hedge against the collapse of the paper dollar. Are they domestic terrorists as the U.S federal government claims?
----------------------------------------------
AUG 2011
1 2 3 4 5 6 7 8 9 10 11 12 13 14 15 16 17 18 19 20 21 22 23 24 25 26 27 28 29 30 31